Notes from my Kindle, as I studied God's Word over the weekend.
8 He may have a great army, but they are merely men. We have the LORD our God to help us and to fight our battles for us!" Hezekiah's words greatly encouraged the people.Read more at location 36635  Note: 2 Chronicles 32 - read this verse. «"I will not fear the war…"
Note: the pagan king of assyria starts misquoting hezekiah. he makes false accusations. "torn down the lords shrines. reminds me of the mormon quotes mom was reading today." 
16 And Sennacherib's officers further mocked the LORD God and his servant Hezekiah, heaping insult upon insult. 17 The king also sent letters scorning the LORD, the God of Israel. He wrote, "Just as the gods of all the other nations failed to rescue their people from my power, so the God of Hezekiah will also fail."    Note: bad king
20 Then King Hezekiah and the prophet Isaiah son of Amoz cried out in prayer to God in heaven. 21 And the LORD sent an angel who destroyed the Assyrian army with all its commanders and officers. So Sennacherib was forced to return home in disgrace to his own land. And when he entered the temple of his god, some of his own sons killed him there with a sword. 22 That is how the LORD rescued Hezekiah and the people of Jerusalem from King Sennacherib of Assyria and from all the others who threatened them.   Note: 2 Chronicles 32 - "oh my God…He will not delay."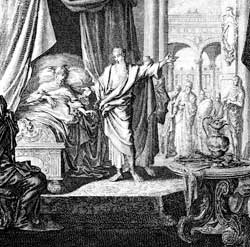 25 But Hezekiah did not respond appropriately to the kindness shown him, and he became proud. So the LORD's anger came against him and against Judah and Jerusalem. 26 Then Hezekiah humbled himself and repented of his pride, as did the people of Jerusalem. So the LORD's anger did not fall on them during Hezekiah's lifetime.   Note: 2 Chronicles 32 - m and Hezekiah… this weekend i struggled with nasty ugly pride. God help me.
33:1 Manasseh was twelve years old when he became king, and he reigned in Jerusalem fifty-five years. 2 He did what was evil in the LORD's sight, following the detestable practices of the pagan nations that the LORD had driven from the land ahead of the Israelites. 3 He rebuilt the pagan shrines his father, Hezekiah, had broken down. He constructed altars for the images of Baal and set up Asherah poles. He also bowed before all the powers of the heavens and worshiped them.   Note: evil returned to the land. was Hezekiahs pride the breeding ground?
9 But Manasseh led the people of Judah and Jerusalem to do even more evil than the pagan nations that the LORD had destroyed when the people of Israel entered the land. 10 The LORD spoke to Manasseh and his people, but they ignored all his warnings. 11 So the LORD sent the commanders of the Assyrian armies, and they took Manasseh prisoner. They put a ring through his nose, bound him in bronze chains, and led him away to Babylon. 12 But while in deep distress, Manasseh sought the LORD his God and sincerely humbled himself before the God of his ancestors. 13 And when he prayed, the LORD listened to him and was moved by his request. So the LORD brought Manasseh back to Jerusalem and to his kingdom. Then Manasseh finally realized that the LORD alone is God!   Note: things got ugly. amazingly, he repented. 2 chronicles 32
16:1 I commend to you our sister Phoebe, who is a deacon in the church in Cenchrea. 2 Welcome her in the Lord as one who is worthy of honor among God's people. Help her in whatever she needs, for she has been helpful to many, and especially to me.   Note: a she-deacon
21 Amon was twenty-two years old when he became king, and he reigned in Jerusalem two years. 22 He did what was evil in the LORD's sight, just as his father, Manasseh, had done.  Note: 2 chronicles 33 -the evil root ran deep
34:1 Josiah was eight years old when he became king, and he reigned in Jerusalem thirty-one years. 2 He did what was pleasing in the LORD's sight and followed the example of his ancestor David. He did not turn away from doing what was right. 3 During the eighth year of his reign, while he was still young, Josiah began to seek the God of his ancestor David.   Note: 2 chronicles 34 - King Josiah
renewing their covenant with God, the God of their ancestors.  Note: josiah was a purifier
17 And now I make one more appeal, my dear brothers and sisters. Watch out for people who cause divisions and upset people's faith by teaching things contrary to what you have been taught. Stay away from them. 18 Such people are not serving Christ our Lord; they are serving their own personal interests. By smooth talk and glowing words they deceive innocent people.Read more at location    Note: romans 16 - watch out for false teachers
20 The God of peace will soon crush Satan under your feet.  Note: love this! romans 16 - Satan will be crushed under YOUR feet!
25 Now all glory to God, who is able to make you strong, just as my Good News says. This message about Jesus Christ has revealed his plan for you Gentiles, a plan kept secret from the beginning of time. 26 But now as the prophets* foretold and as the eternal God has commanded, this message is made known to all Gentiles everywhere, so that they too might believe and obey him. 27 All glory to the only wise God, through Jesus Christ, forever. Amen.   Note: romans 16 - amazing summary of the book!
"What do you want with me, king of Judah? I have no quarrel with you today! I am on my way to fight another nation, and God has told me to hurry! Do not interfere with God, who is with me, or he will destroy you." 22 But Josiah refused to listen to Neco, to whom God had indeed spoken, and he would not turn back.   Note: 2 Chronicles 35 - why did God speak to king Neco?
23 "This is what King Cyrus of Persia says: "The LORD, the God of heaven, has given me all the kingdoms of the earth. He has appointed me to build him a Temple at Jerusalem, which is in Judah. Any of you who are the LORD's people may go there for this task. And may the LORD your God be with you!"  Note: the pagan king Cyrus also alnowledges God?